Whether you work in an office or a less traditional setting, the only thing you really want to bring home from work is a steady paycheck. But many people in Las Vegas end up with job-related hearing loss. It's the responsibility of your employer to ensure a safe environment in which to work, but why leave things to chance – even in Vegas?
Noise-Induced Hearing Loss in the Workplace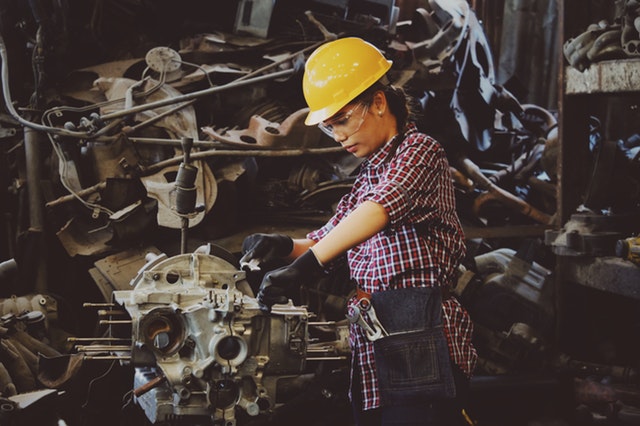 When we imagine the average person with hearing loss, most of us probably picture somebody well into their retirement years. The reality is, only about one-third of hearing loss patients are older than 65. Younger people may have their jobs to blame for their hearing impairment – about 15 percent of Nevadans aged 20-69 have noise-induced hearing loss that developed on the job.
Noise-induced hearing loss, or NIHL, occurs when the tiny hair cells of the cochlea suffer damage due to noise. These nerve cells, responsible for hearing, do not grow back; once they are damaged, you will not regain your hearing.
You are at risk for NIHL when exposed to any sound louder than 85 decibels (dB) for an extended period of time. The louder the noise, the less safe exposure time you have; at 85 dB, damage will occur in about eight hours, but at 100 dB, it takes only 15 minutes for permanent hearing loss to occur. Your best bet – perhaps the only surefire way to beat the house in the Entertainment Capital of the World – is to wear hearing protection anytime you are exposed to hazardous noise levels.
OTJ Hearing Safety
NIHL is one of the most common occupational diseases in Nevada. While hearing damage is most likely to occur in jobs that depend on heavy equipment – think manufacturing and construction – it can happen in less-obvious settings, as well. Teachers, musicians, gardeners, factory and farm workers and airport ground staff are all occupations at risk for hearing loss resulting from noise. Let's not forget our casino workers, either. Whether you work at one of the city's upscale resorts lining the Strip or an old-school spot off the beaten path, casinos are noisy places with lots of action and entertainment. Proper hearing protection will ensure your ears hit the jackpot.
OSHA (Occupational Safety and Health Administration) regulations are designed to protect workers from excessive noise exposure. Their guidelines have established 90 dB as the maximum permissible exposure in an eight-hour day. Employees are entitled to the following rights under OSHA's guidelines:
Working conditions that do not pose a risk of serious harm.
Information and training about workplace hazards, methods of preventing them and the OSHA standards that apply to their workplace.
The right to review records for all work-related injuries and illnesses.
The ability to file a confidential complaint asking OSHA to inspect their workplace if they feel there is a serious hazard, or their employer is not following OSHA's guidelines.
Report an injury or health/safety concern to their employer or directly to OSHA without fear of recrimination.
All employers are required by law to provide hearing protection in workplaces where noise levels are a danger. To ensure a safe working environment, take advantage of this even if you don't think your workplace is particularly noisy. Why roll the dice? Many employers also hold training sessions on hearing safety. If given the opportunity, attend these regularly – you'll probably learn a few interesting things you were otherwise unaware of.
Still in the dark concerning your rights and the responsibility of your employer to ensure you are protected on the job? Your Las Vegas audiologist is happy to provide more information when requested.
Call Nevada Ear + Sinus Institute at (702) 735-7668 for more information or to schedule an appointment.